Home | Biography | Prints & Book Sales | Browse Artists' Portraits | Licensing Images For Publication | Contacts & Links

Limited Edition Prints
In 2004, to mark the occasion of Jorge Lewinski's dual retrospectives at Sotheby's and the Royal Academy, the photographer hand printed a limited edition set of his most enduring images. Offered in an edition of 50, sized 13.5" x 10.25" on 16"x12" paper, the three commemorative images are, as shown above:

Terry Frost (1974), David Hockney (1973), Barbara Hepworth (1968)

Price per print is £125 which includes VAT but excludes postage


Selected Hand Prints Available
A limited selection of larger hand prints made by Jorge Lewinski himself are still available for sale. Most prints are sized 20"x16" and prices start at £350.00 inc. VAT

To enquire about purchasing prints please contact us quoting which artist you are interested in.

Email info@jorgelewinski.com or call +44 (0)20 7605 8010.


Books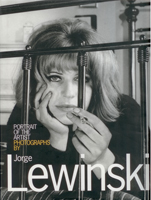 A book of Jorge Lewinski's portraits of artists was published by the Royal Academy in 2005 to great acclaim. To obtain a copy of the title Portrait of the Artist: Photographs by Jorge Lewinski, please contact us by e-mail info@jorgelewinski.com or call +44 (0)20 7605 8010 (£25.99 inlc P&P)

Images by Jorge Lewinski appear in a great number of publications. The list that follows is by no means comprehensive.

The Racing World (with Julian Wilson) - Queen Anne Press, 1991
Click here to purchase from Amazon

The Monument Guide to England and Wales - with Mayotte Magnus and John Darke - Macdonald, 1991
Click here to purchase from Amazon

By Appointment - Book of Royal Warrant Holders, with Mayotte Magnus and Tim Heald - Macdonald, 1989
Click here to purchase from Amazon

Portrait of the Artist; 25 years of British Art - Carcanet, 1987
Click here to purchase from Amazon

English Heritage (with Mayotte Magnus and Lord Montague) - Macdonald, 1987
Click here to purchase from Abe Books

Smiley's Circus; The World of John Le Carre, with David Monaghan - Orbis, 1986
Click here to purchase from Amazon

Shell Guide to the Archaeology of the Earth (with Jacquetta Hawkes) - M Josephs, 1986
Click here to purchase from Amazon

Venice Preserved (with Mayotte Magnus) with text by Peter Lauritzen - M Josephs, 1986
Click here to purchase from Book Finder

Book of Photographic Portraiture (with Mayotte Magnus) with text by TM Robertson - Macmillan, 1986
Click here to purchase from Amazon

Shell Guide to Photography of Britain - Hutchinson, 1982
Click here to purchase from Amazon

James Joyce's Odyssey (with Frank Delaney) - Hodder, 1981
Click here to purchase from Amazon

One is My Lucky Number (Daley Thomson) - WH Allen, 1980
Click here to purchase from Amazon

Writer's Britain (with Margaret Drabble) - Thames and Hudon, 1979
Click here to purchase from Amazon

Camera at War; A History of War Photography - WH Allen, 1978
Click here to purchase from Amazon

Photography, A Dictionary of Photography - Arrow Books, 1977 Revised and reprinted - Sphere Books, 1986
Click here to purchase from Amazon

Colour in Focus (with Bob Clarke) - Argus Books, 1976
Click here to purchase from Amazon

Byron's Greece (with Lady Langford) - Weidenfeld, 1975
Click here to purchase from Amazon